Since 1994, Dr. Hardware is the reliable, award-winning system info and benchmark software. Discontinued between 2010 and 2018, it is now again available.

Dr. Hardware has been optimized for Windows 7, 8 and 10, and runs on desktop PCs, notebooks, netbooks, convertibles and Windows tablets. It is also well suited for beginners and seniors.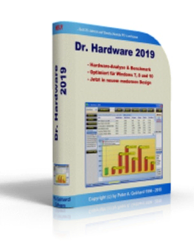 News
09/04/2019 - Dr. Hardware 2019 19.8
Support for Intel Comet and Ice Lake processors. Download here.
---
07/19/2019 - Dr. Hardware 2019 19.6
Download Dr. Hardware 2019 19.8! The first english version after 10 years of discontinuity. Full support for the latest hardware including Intel´s 9th generation Mobile Coffee Lake processors and AMD Zen 2 architecture.
---
07/19/2019 - Registered version for less
Dr. Hardware Premium for only 19 USD.
Dr. Hardware Premium Forever (with lifetime upgrade option) for only 49,95 USD
Copyright © 1994 - 2019 by Peter A. Gebhard All rights reserved